Luigi, the second shadow of his older brothe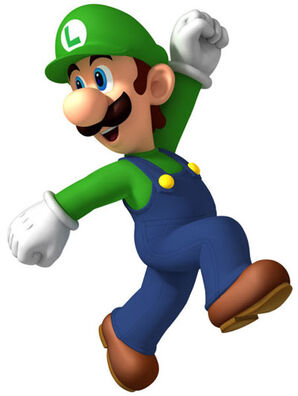 r Mario.He wears a green hat with an L on it. Luigi is able to do the same abilitys of Mario like,riding a Yoshi , saving items,and high jumping.
Bio
Bio: http://www.mariowiki.com/Luigi
Abilities and Gameplay Styles
Speed: Normal Speed Runner
Jump Height: High
Fall Speed: Low
Secondary Jump: Spin Jump
Can Carry Weapons
Will Carry Items in front of him
Can Ride Shoes, Yoshis, and Clown Car
Coin Block Effect: All Coins emerged from block
Transformations
Fire Flower Effect: Transform to Fire Luigi
Raccoon Leaf Effect: Transform into Raccoon Luigi
Hammer Suit Effect: Transform to Hammer Luigi
Tanooki Suit Effect: Transform to Tanooki Luigi
Ice Flower Effect: Transform to Ice Luigi
NPC Pieces
graphics>>Luigi
luigi-1
luigi-1m
luigi-2
luigi-2m
luigi-3
luigi-3m
luigi-4
luigi-4m
luigi-5
luigi-5m
luigi-6
luigi-6m
luigi-7
luigi-7m
graphics>>player
player-2
player-2m
graphics>>effect
effect-5
effect-5m
graphics>>block
block-623
block-627
block-627m
Community content is available under
CC-BY-SA
unless otherwise noted.